Portable Thermometer (Temperature Gun for Casting Industry) is made with integration of thermal bar and display to avoid limitation of sensor and display part's cable towards thermal distance with rapid speed of data gathering, it improves application times of thermocouple of consuming type. It still features with automatic compensation function, high thermal accuracy and stable and reliable temperature. Its automatic peak holding function can focus operator's attention to the measured point with safe and reliable measuring process.
Code

NSP-203R

Thermocouple Tip

R

Test Range

0—1760 ℃

Test Precision

+/- 0.1%

Distinguish Precision

1 ℃

Test Way

Automatically search, peak keep

Display Way

Red LED 10.6Χ6.6mm

Compensation Way

Automatically

Caution out of tip

Glitter (8888)

Power Spec.

4.8V (Electrification)

Power Consume

1 W

Work Tem.

0—45 ℃

Work Humidity

20—80% (RH)

Color

Red

Size & Weight

90×152×52mm/ 1.5kg

Lance

Standard 1300mm

1. Convenient application and quick measurement to reach max temperature in 3 seconds.

2.Japan's technology and applicable for R thermocouple.

3. Auto C.J. Compensation in and auto peak hold function

4. Cute and light without any limitation.

5. Convenient application and quick measurement to reach max temperature in 3 seconds.

6. High accuracy of assembly data within 1.5℃.

7. Range from 0℃ to 1760℃.

8. Good stability without any error in continuous measurement.

9. Inner rapid charging loop which is quick and convenient.

10. Suggestive function of broken circuit and power off.

Wide application of molten iron, molten steel and metals in liquid status.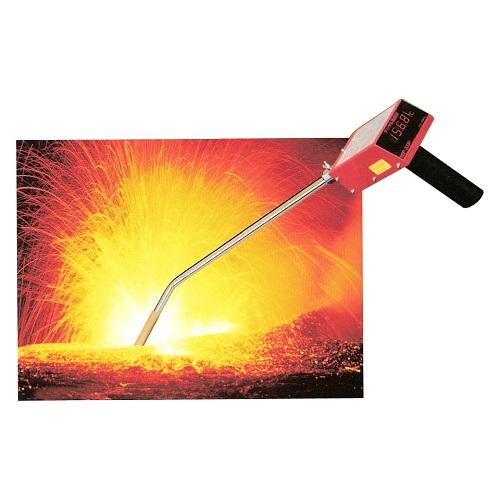 Wireless Thermal Measurement System adopts portable digital thermometer as signal gathering and sending part to transfer the value to receiver (large screen display, wireless printer) within 100 meters by radio wave to carry on recording and displaying.